We launched our fourth and final competition at Birmingham Council House with children and young people from local schools
The launch of our 2017/18 competition, which is being supported by The Royal British Legion , the National Lottery through the Big Lottery Fund, and RAF100, was a day to remember at Birmingham Council House. Children and young people showcased their thought-provoking poetry, art, and songs for an audience of their peers and local dignitaries.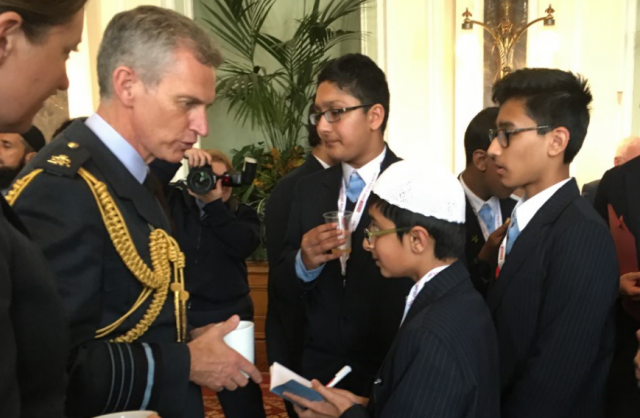 To mark the opening of our 2017/18 competition we were joined by six local schools; Bellfield Junior School, Washwood Heath Academy, Riverside Education, Bishop Vesey's Grammar School, Eden Boys and Selly Park Technology College. Representatives from each of the schools participated in the presentation, either by reading out a First World War poem, a poem they had written themselves, or singing a song they had written during a songwriting workshop earlier that week with our Artists in Residence. Bellfield Junior School were accompanied by an Royal Air Force band to perform their song inspired by the War in the Skies which could see them awarded a special bonus prize courtesy of our partnership with RAF100 (for more info on bonus prizes see here). Riverside very kindly put together a video to showcase the work they had been doing to remember the First World War and brought along their artwork to display during the reception after the presentation.
All the children's hard work was supported by our special guests, including Councillor Anne Underwood, the Lord Mayor of Birmingham, Imam Asim Hafiz, Islamic Religious Advisor to the MoD, and Stella Manzie, Chief Executive of Birmingham City Council.
Our guest of honour was the Chief of the Air Staff, Air Chief Marshall Sir Stephen Hillier who said, "I am delighted that we have partnered with Never Such Innocence. Through this competition, we can ensure that our children are educated in the events of the First World War. I am looking forward to the roadshow which will be hosted at RAF Stations across the United Kingdom. This is one of many initiatives as part of RAF100, which will help make our centenary a special year".
The event was a tremendous success, with our Founder and Chief Executive, Lady Lucy French, commenting: "It has been an extraordinary three years and I am delighted to be in Birmingham to launch our fourth and final competition. We aim to engage and inspire more children in our competition than ever before as we look to the end of the centenary."
As well as inviting entrants to think about the War in the Skies for their competition entries, together with the Royal British Legion, we are inviting young people to share a message of remembrance and hope by saying "Thank You" to the First World War generation. Entries inspired by the 'Greatest Thank You' campaign could feature in the Legion's famous events as a special bonus prize (see more here), including the Festival of Remembrance at the Royal Albert Hall.
Gary Ryan, Director of Remembrance and Marketing for the Royal British Legion said: "We are pleased to be in partnership with Never Such Innocence to encourage young people from across the UK to mark the final year of the First World War Centenary in 2018. We are calling on a new generation to remember, to reflect, and to join in our campaign to say, 'Thank You' to the First World War generation for their experience and example which inspires us still. We'll be working with Never Such Innocence to bring the best of these 'Thank You' messages in poetry, music, and art to the widest possible UK audience."
Joe Ferns, UK Portfolio Director, Big Lottery Fund said: "As the largest community funder in the UK we're pleased to support Never Such Innocence's fourth and final year. It will be great to see National Lottery funding bringing more young people together to remember the First World War and the importance it still holds for our lives today."
We would like to thank all the schools, guests and partners who joined us and helped make our 2017/18 launch event so special. Every child present at the event was given a copy of the Never Such Innocence resource to take home. For your free copy, email us at enquiries@neversuchinnocence.com or download it here. If you'd like to enter the competition please click here, and to see the upcoming locations of our roadshow events please click here!