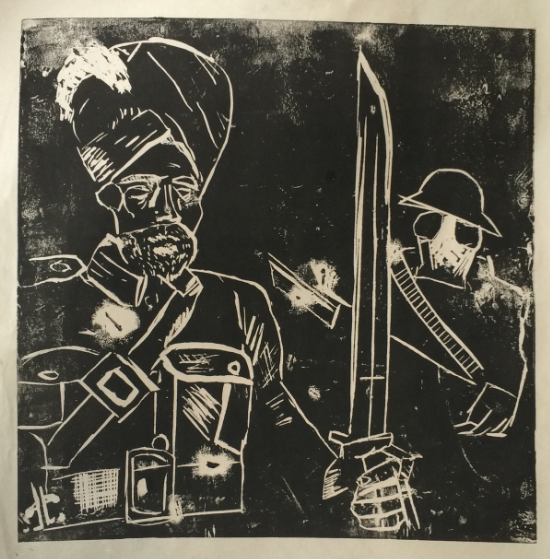 View the winning entries from the 2014 Competition by downloading the Winners' Booklet here. The work has also been published in the Never Such Innocence Anthology, available on Amazon here.
In September 2014 Never Such Innocence launched a pilot poetry and art competition for 11-16 year olds at the opening of Marylebone Boys' School. To encourage and stimulate responses to the competition we produced a 56-page resource which offered an introduction to the different stages of the First World War with topics such as The War at Sea, The Home Front and Women at War. The resource, which has subsequently been updated and expanded, can be downloaded here. During the 2014 Pilot Competition, the resource was directly received in hard copy by over 500 schools, and was downloaded over a thousand times.
The number of entries to the Pilot Competition surpassed 600 from 46 schools. This included spontaneous poetry entries received from primary schools, despite the competition initially being aimed at ages 11-16. After these surprise entries, the competition was expanded to also include pupils aged 9-11 for the 2015/16 competition. We have plotted all the schools that entered the 2014 Pilot Competition on a map which can be viewed here.
We were very pleased with the high calibre of work submitted by schools across England. Our Judging Panels spent many hours deliberating, discussing, disagreeing, and finally deciding the winners.
The Judging Panels for the competition included:
The Poetry Panel: Ambassador of Ireland HE Dr Daniel Mulhall, Stanley Johnson, Anna Trethewey and Androcles Scicluna
The Art Panel: Dr Anthony Wallersteiner, Caroline de Peyrecave, Tim Betjeman, Charlie Barton and Peter Biggs
The winning entries have been published in the 2014 Winners Booklet, and all the winners were invited to a special ceremony, kindly hosted by Jones Day, to collect their awards.
The 2014 Never Such Innocence Competition was supported by the Westminster Foundation, CH2M and the Macintosh Foundation.