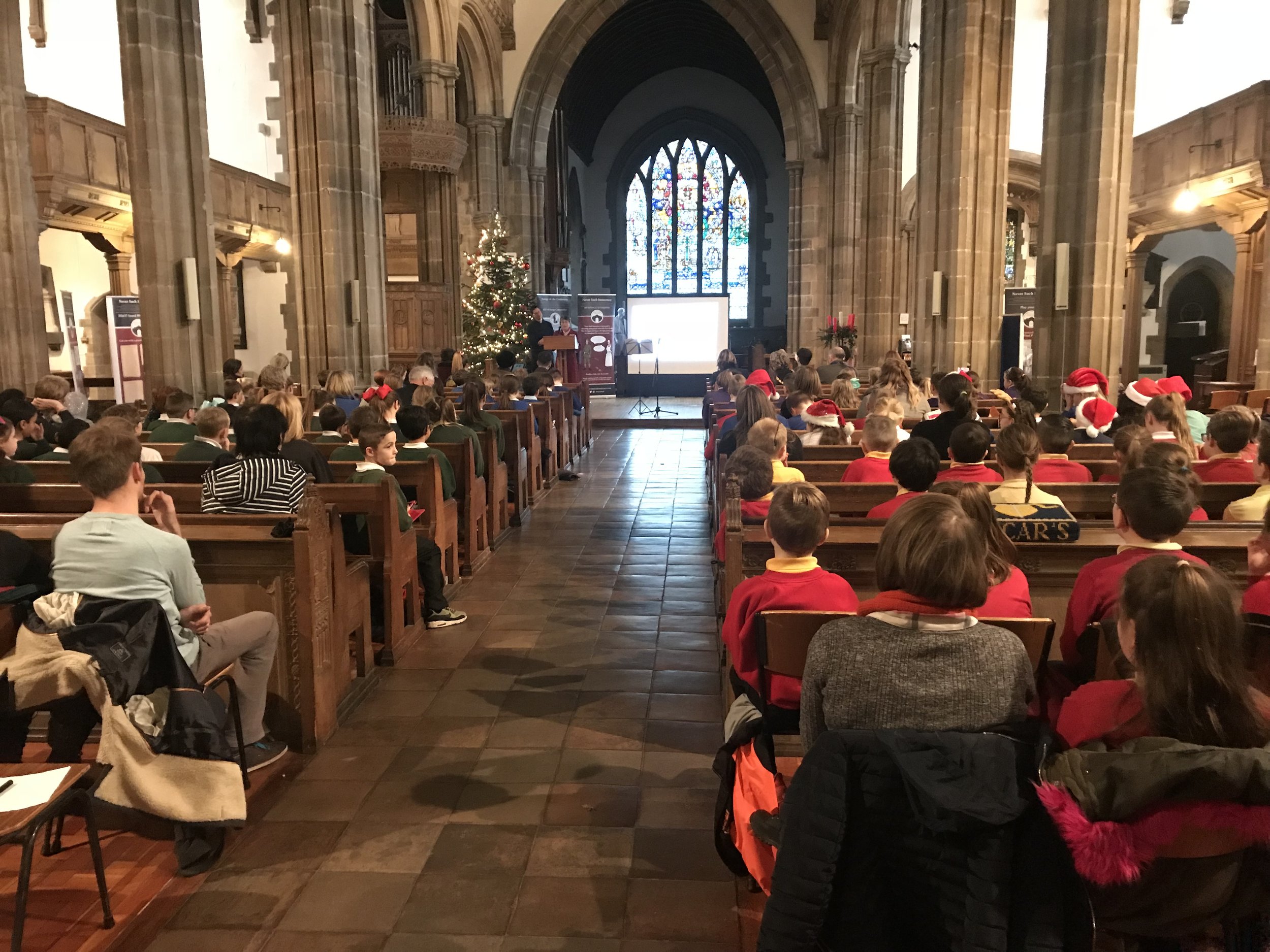 Over the years, our roadshow of community events has enabled us to inspire and empower young people to reflect on conflict and have their voices heard. We have visited communities across the UK and Europe, inviting young people to take to the stage at every location.
The roadshows take place in special venues where local students are the stars of the show and are encouraged to showcase their creative talents in front of the distinguished guests. The events are attended by local dignitaries, politicians, representatives of the Armed Forces, cadets, representatives from educational bodies and community groups, and local/regional press. Our partner, the Commonwealth War Graves Commission (CWGC), joins the roadshow to highlight local Commonwealth war graves and encourage schools to visit them to inspire their competition entries. During the First World War Centenary, CWGC representatives particularly focused on local First World War graves, and the community's role at that time.
In 2016 we successfully launched Songs of the Centenary, and began offering free songwriting workshops with our Artists in Residence, Marty Longstaff and Bethzienna Williams, as part of the event programme. These workshops have produced some amazing performances and competition entries!
During the 2014 - 18 roadshows we have visited local communities far and wide. Our young people have moved and inspired their communities with their emotional intelligence and profound thoughts. We are incredibly proud of every young person we have had the privilege of working with since 2014.
Our roadshows have visited:
In 2014:
Marylebone Boys' School, London
In 2015-16:
Jersey College for Girls, Jersey
John Madejski Academy, Reading
Elizabeth College, Guernsey
Glasgow City Chambers
The Manx Museum, Isle of Man
In 2016-17:
Blackwood, Caerphilly
University of Exeter
Eaton Park, Chester
Liverpool Philharmonic Hall
HMS Iron Duke, Portsmouth
Nicholson Institute, Leek
In 2017-18:
Birmingham Council House
Blackwood, Caerphilly
The Ulster Museum, Belfast
Thessaloniki City Hall, Greece
RAF Valley, Anglesey
RAF Odiham, Hampshire
Pipers Corner School, Hertfordshire
Edinburgh Castle
Sunderland Minster
RAF Leeming, North Yorkshire
CWGC Head Office, Maidenhead
Hattingen Comprehensive School, Germany
RAF Lossiemouth, Moray
Baltasound Junior High, Shetland
The Guildhall, London
Manchester Central Library
RAF Museum, Hendon
HMS Caroline, Belfast
St. Andrew's University
Warminster Garrison, Wiltshire
RAF Museum, Cosford
If you would like us to visit your local area please let us know at enquiries@neversuchinnocence.com.